A surge is defined as "a sudden powerful forward or upward movement, especially by a crowd by a natural force such as the waves or tide."  This aligns perfectly with what we envision this movement to be - positive change in our environment driven by the power of people and their community with one another.  This idea of dynamic movement influenced the lively and energetic feel of our branding.  Three categories of pollution are represented in the three colored triangles motif, and were inspired by the original symbols used by alchemists for Earth, air, and water.  These elements work together to walk the line between chaotic freedom and restrictive structure to ultimately create a brand that is realistic about the state of our Earth, instill in individuals the belief that they can make a difference, and enable people to discover the power of community.


When users complete certain milestones, they receive a badge.  This badge is digital and lives online in their profile.  However, if a badge is particularly meaningful or the user wants a physical version of that badge for any reason, he/she may order it as a physical patch that they may put on their t-shirt, hat, or other material outside of The Surge collateral such as a backpack or jacket.
The Surge website provides users with the tools and resources they need to truly be part of the movement and fight pollution.  It facilitates the creation of teams and events geared toward bettering the local environment.  Here, users make their pledge to help the environment, they see their impact, and connect with others over shared beliefs.  Below are a few pages from the website.  Rachel Radulovich lead our team in interaction design and controlled the overall structure of the website, while I focused on the map tool (middle) and Sarah Shively focused on service design and events (right).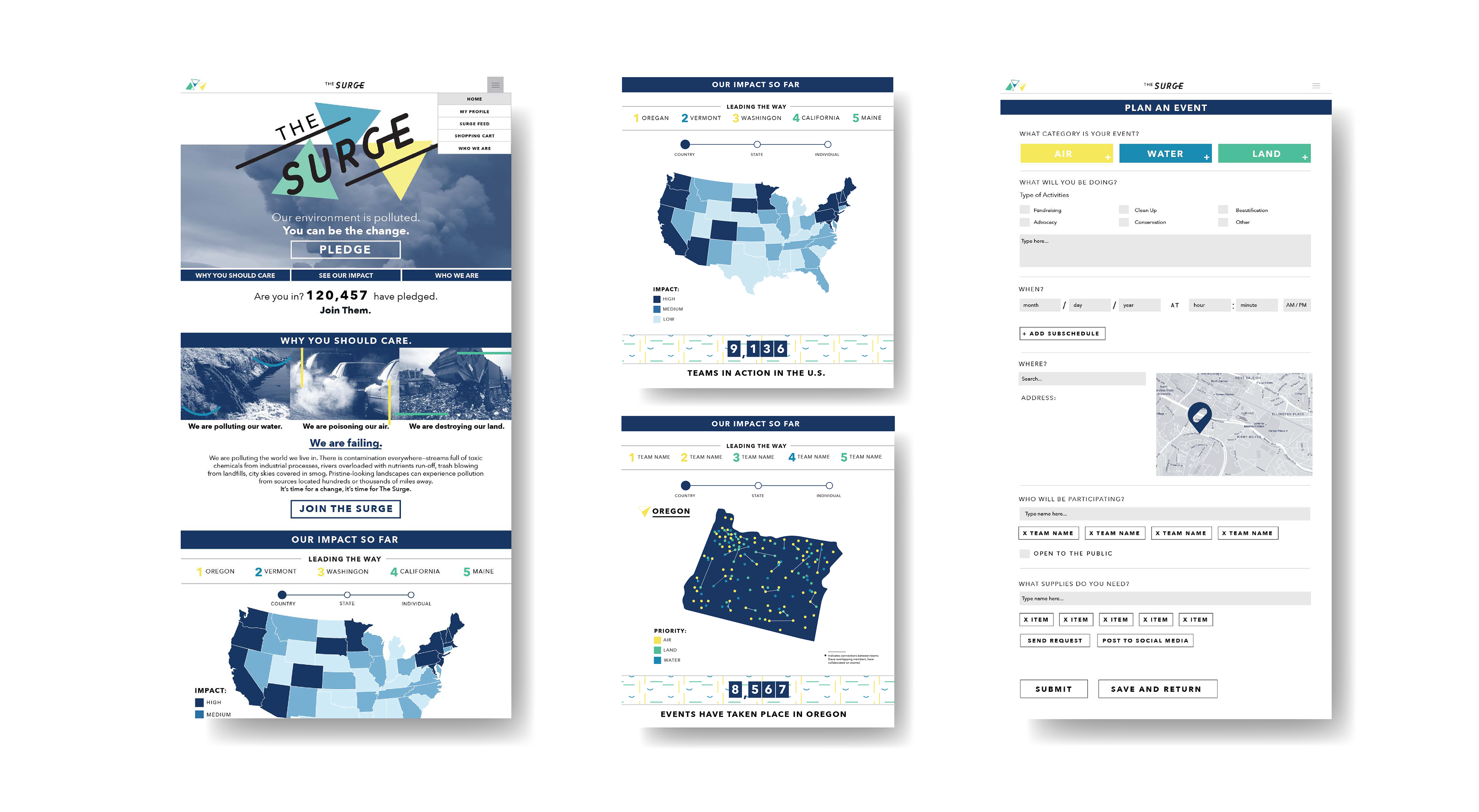 Through research, sketching, and wireframing, we created The Surge.  We first identified the problem, did research on successful movements and platforms, then generated personas and scenarios to model our touchpoints.
You can download the full process and presentation booklet for The Surge here.